I own a 1985 Fiero coupe. My car was the base model, 13" steel wheels, no trim rings, 185/80 X 13 tires, AM/FM cassette stereo and only a sunroof as an option. This is a car begging for modification, and I feel no guilt in answering this call.
There are times I am glad I do not own an Indy, there is a car I would feel obligated to preserve as a "historical footnote" in the Fiero story. An Indy would seem too much like a responsibility, as if I had somehow been appointed curator to some historical artifact. My 1985 is insignificant enough to "improve".
Hot rodders fall into two general categories which often overlap and are a little "fuzzy" around the edges. The first group is made up of the racers, their cars may look nearly stock and cosmetics are often overlooked (sometimes "ratty" is an apt description). The second group consists of the customizers to whom the look and sound is everything. Between these two extremes are a lot of good looking, fast cars. Fiero owners who have ventured away from "stock" fall into all three of these descriptions.
Hot rodders have always recognized an old car as a work in progress. If you look hard at the hot rod movement you will find that it is all about individuality. The typical hot rod is the product of one person's imagination, it is the realization of one person's view of what appeals to them in a car, it is a tangible extension of the personality of that one individual. Many Fiero owners are firmly entrenched in the hot rod mindset.
Here is a short checklist to see if you are indeed a hot rodder -slash- customizer at heart:
(NOTE: Some of these apply only to racers, some only to customizers, some to all, you decide where you fit.)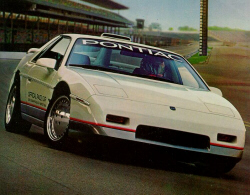 1. Every time you look at your car you want to change something.
2. How the car sounds is more important to you than how fast it is. (We aren't talking stereo here either, if it sounds right who needs a stereo anyway?!)
3. When an engine wears out you are more likely to swap in something different than to rebuild it.
4. You don't really see the point of kit car bodies which turn Fieros into Ferrari or Lamborghini since they represent someone else's ideas, however, wide fender flares, chopped tops and wild paint jobs really make you take notice.
5. If you suddenly find yourself in the financial position to buy that new 911 or Corvette, you decide to spend it on modifications to your Fiero instead, (and use anything left over for travelling expenses to get to all the great shows).
6. Your engine looks like a surgical instrument, clean and shiny.
7. You polish or paint everything that shows (and half of what doesn't).
8. You realize that cross drilled rotors and painted calipers do not improve your brakes but you get them anyway because they look right through those alloy wheels.
9. You have a full tubular steel suspension with poly bushings, coil over shocks and big brakes, and the car still needs a paint job.
10. You skip over "Car and Driver", "Motor Trend" and "Road&Track" and instead buy "Hot Rod", "Popular Hot Rodding" or even "European Car" since they deal with modifying older cars rather than testing new ones.