Welcome to my newly redesigned Fiero 2M4 resource site. The original site recorded over 12000 visits, hopefully this one will also prove as useful.
Ira Crummey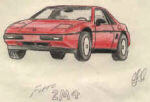 Budget Wheels 3:


Factory Wheels from other manufacturers for your Fiero
GM wheels are not the only alternatives for Fiero owners on their way to the scrap yard, here are just a few of the other possibilities!

Ira Crummey
IMPORTANT: The Fiero bolt pattern is 5X100mm offset should be in the range from 35mm to 42mm with larger offsets possible in larger diameter wheels (16" or larger).
Volkswagen Wheels
Some later model FWD Volkswagens have a 5X100mm bolt pattern and an offset close to the Fiero's. Owners in Europe have reported success with these wheels in 15" and 16" sizes, but they may be hard to find here.
Chrysler Wheels
Here are my current wheels, these are a 14 X 5.5" styled steel design common on Dodge Shadows, and Daytonas of the late 1980s. Along with the Sundance, Acclaim, Spirit and several other K-car derived models with the later 5 bolt pattern. Many newer Chrysler models have a different bolt pattern so check carefully.

John Good of Richards Landing, Ontario has this custom painted set of

Daytona

15 X 6.5" alloy wheels.

Click Here

Mike Johnston sent these pictures of his Fiero with a very nice set of Chrysler LeBaron 15 X 6" alloy wheels with a nice polished/machined surface
More