Welcome to my newly redesigned Fiero 2M4 resource site. The original site recorded over 12000 visits, hopefully this one will also prove as useful.
Ira Crummey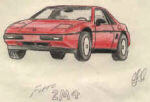 Budget Wheels 2:


Factory Wheels to upgrade your Fiero
IMPORTANT: The Fiero bolt pattern is 5X100mm
I will be supplying pictures of some of the more interesting wheels as time passes, for now here is a brief list of what will fit: (This is not a complete list)
(NOTE: some may be a tight fit against the strut bolts at the rear, test fit if possible)
Here is a selection of 1996-2000 Sunfire wheels:
1996-1999 15" Alloy

1996-1999 Sunfire GT

16" Alloy

The 2000 GT got this new 16" pattern
Here is John Altman's 86 SE with late model Chevy Cavalier Z24 16" wheels. A nice clean 5 spoke pattern.
~1988-1990 14" Steel

More
Cavalier
wheels:
(NOTE years given are approximate ranges)

1988-1990 14" Alloy Z24

1991-1995 15" Alloy Z24

2000 Z24 16"

Here is a mystery wheel. The 1982-1985 Citation X-11 had a 14" alloy wheel which MAY have been more than 6" wide. I have seen it listed as 6", 6.5" and 7" so if you can find a set let me know. This car was a "factory" showroom stock racer so the results may be interesting

Here are two pictures of the Chevrolet Beretta GTZ 16" alloy rims actually in use on Fieros. This particular wheel was painted body colour from the factory and can therefore be painted to match the car or polished.