Welcome to my newly redesigned Fiero 2M4 resource site. The original site recorded over 12000 visits, hopefully this one will also prove as useful.
Ira Crummey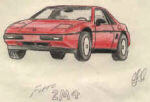 Budget Wheels:


Factory Wheels to upgrade your Fiero
The price of a decent set of aftermarket wheels can be something of a shock to those of us who can hardly afford a new set of tires. There is an alternative however, Scrapyard wheels!!! This is not a complete list of what fits, however over time I hope to present as many examples as possible of wheel sources (and particularly handsome wheels), with pictures whenever I can manage to get them.

Ira Crummey
IMPORTANT: The Fiero bolt pattern is 5X100mm
I will be supplying pictures of some of the more interesting wheels as time passes, for now here is a brief list of what will fit: (This is not a complete list)
(NOTE: some may be a tight fit against the strut bolts at the rear, test fit if possible)
All J-car - Cavalier, Sunbird, Sunfire, Firenza, Skyhawk, Cimmaron
N-body (pre-1999) - Grand Am, Skylark, Achieva, Cutlass Calais
Light Duty A-body - Celebrity, Pontiac 6000, Cutlass Ciera, Century (Most of these models had the heavy duty 5X115mm bolt pattern so be careful)
All X-body (1980-1985) - Citation, Phoenix, Skylark, Omega (Some are even 14X6.5")
Others - Chevy Corsica (and Pontiac Tempest, a Canadian badge engineered Corsica) and Beretta
| | |
| --- | --- |
| The major difference between the FWD Sunbird/Grand Am/Tempest(Cdn) wheels and the Fiero High-Tech 14"X6" wheels is the offset. While the Fiero uses a 35mm offset, the FWDs used a 47mm offset. This gives the Fiero wheels a distinctive 12mm "lip" on the rim. (See below) | |
Here is a nice 16" factory wheel on a first series Grand Am. These are found on many of the GT models from around 1990 until the end of this series.